Special Finance Offer from Autohaus Lancaster:
O% APR FOR 60 MONTHS

…OR SAVE UP TO

$5,000!
No matter how what happened to your credit score—missed payments, late payments, defaulted loans, collection notices, repossessions or even bankruptcy—it happens to the best of us…and it can make a lot more difficult to get a loan. If you credit standing is poor, you are going to find it tough to get a traditional loan for a new car. This is where Autohaus can help you with our special financing. As a family-owned dealership, we combine personalized service and factory-ayuthorized incentives to bring you truly affordable deals on your new car, truck or SUV…giving you a great opportunity to rebuild your credit.
Your credit score, which determines your likelihood to default, is the single most important factor in whether or not you will get a loan approval. If your score is low, traditional lenders like banks or credit unions will be reluctant to take a risk on you. On the other hand, unscrupulous car dealers will be all too quick to prey on you, sinking you into a debt that sounds reasonable but turned out disastrous. (This is how a lot of folks get into credit trouble in the first place.) These special finance companies—sub-prime dealerships—don't care about your credit score. In fact, these sketchy dealers won't even run a credit check when you apply with them. You've heard of these places…
"Buy Here/Pay Here" Dealers
"In-House Financing"Dealers
"Tote the Note" Dealers
"We Finance Everyone" Dealers
"Rent-To-Own" Dealers
Lots of these dealers work the same game. They'll tell you that "your job is your credit," and say as long as you can prove that you have a steady income and residence, you will be approved for an auto loan. Sure, you'll be approved…at high interest rates, making the loan unaffordable.
There are also dealers without in-house financing, who still accept low credit scores. These dealerships use third-party lenders who are expert in subprime auto financing and can probably get you approved. You'll end up back in the same boat: higher interest rates and shorter loan terms.
How Autohaus Lancaster Volkswagen is different.
We are a factory-authorized dealership backed by the world's largest automaker. With a vast array of banks and financial institutions backing it, Volkswagen can offer loans on its own terms. It can afford to take higher risks on customers because it has a bigger pool of customers to even-out the risk. Plus, we can take advantage of factory incentives and savings. These offers don't benefit us unless we sell the car, so we're only too happy to pass them on to you!
Don't believe us? How about this?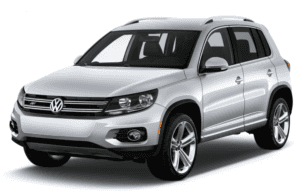 Right now we have a bunch of 2017 Tiguan Limited Edition SUVs available with factory-authorized savings up to $5,000!
The Tiguan Limited is designed to give you what you need, pure and simple. There's stunning style, plenty of capability, interior comforts galore, and SUV versatility. Not to mention a limitless supply of enjoyment.
Features include:
4MOTION® all-wheel drive
2.0L TSI® engine
Rear View Camera System
Electric parking brake
Bluetooth® with audio streaming for compatible devices
Anti-theft alarm system with vehicle immobilizer
Rear center armrest with 2 cupholders
Power-operated, heated side mirrors with integrated turn signals
Brake disc drying feature
Touchscreen sound system
40/20/40-split folding rear seat with sliding bench adjustment
Volkswagen Car-Net® App-Connect
Intelligent Crash Response System and more!
The Tiguan Limited is a great little SUV…and now you can drive a brand new one while saving $5,000!
Or, if you'd rather save over the course of the loan, you can get a 0% annual percentage rate (APR) loan for 60 months. That's five years of zero interest! Or get 0.9% interest up to 72 months–six years!

If credit is an issue for you, you owe it to yourself to take this rare opportunity to get back on the road to good credit. It's simple.
Check out our Tiguan LE inventory >>